I AM FT
International Academic Mobility for Frontier Technology (I AM FT) is one program of designed efforts to promote all potential aspects of Engineering Faculty, Universitas Negeri Malang throughout various activities that are able to raise the competitiveness and contribution of Engineering Faculty around the world, as well as, to build and synergize with overseas partners to strengthen the potential mobility and excellence of Engineering Faculty and Departments at the national level. The I AM FT will be presented for students, staffs, and lecturers in order to disseminate the invention, research, view, theory, and others in the field of engineering, technology, and its education, as part of the international academic mobility and international partnership which are used to support national roles. The main programs of the I AM FT covers Staff/Lecturer Mobility and Student Mobility in outbound or inbound countries, and Skill Empowerment and Development for the staff/Lecturer and student.
All participants who interest in these programs to present the engineering faculty mobility as a key of the I AM FT should be registered. The registrant will be evaluated and selected to be a candidate for the I AM FT.
I AM FT 2021

– I AM FT Webinar Series 47 –
Sosialisasi dan Strategi Sertifikasi Kompetensi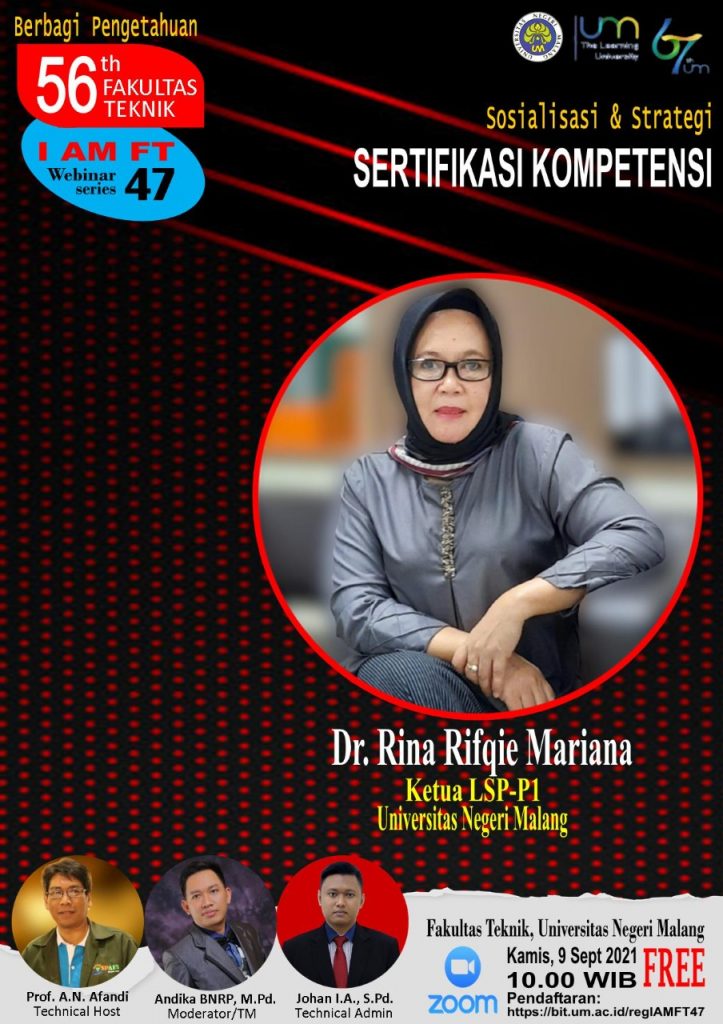 —
– I AM FT Webinar Series 48 –
Transformasi Karya Dalam HKI (Tugas Akhir, Skripsi, Tesis, Disertasi)
—
– I AM FT Webinar Series 49 –
Sustainability in Fashion
56th Fakultas Teknik UM menghadirkan I AM FT #49 bersama Agus Sunandar, S.Pd., M.Sn. dalam headtag "Sustainability in Fashion", dan mengundang terbuka participants dalam direct registry di https://bit.um.ac.id/regIAMFT49 for joinning ZOOM yang akan dihelat pada 15 September 2021, Jam 13.00 WIB.
—
– I AM FT Webinar Series 50 –
56th Fakultas Teknik UM menghadirkan I AM FT #50 bersama Dr. Fachrul Kurniawan (UIN MALIKI) dalam headtag "Aplikasi Smart Technology Dalam Industri", dan mengundang terbuka participants dalam direct registry di https://bit.um.ac.id/regIAMFT50 for joinning ZOOM yang akan dihelat pada 17 September 2021, Jam 13.00 WIB. Dan Live on Youtube Channel Fakultas Teknik UM https://www.youtube.com/c/FakultasTeknikUM
—
– I AM FT Webinar Series 51 –
56th Fakultas Teknik UM menghadirkan I AM FT #51 bersama Suprayitno, Ph.D dalam headtag " Computational Intelligence In Manufacturing Technology ", dan mengundang terbuka participants dalam direct registry di https://bit.um.ac.id/regIAMFT51 for joinning ZOOM yang akan dihelat pada 24 September 2021, Jam 13.00 WIB. Dan Live on Youtube Channel Fakultas Teknik UM https://www.youtube.com/c/FakultasTeknikUM
—
– I AM FT Webinar Series 52 –
56th Fakultas Teknik UM menghadirkan Risnandar, Ph.D dari Pusat Riset Informatika-Badan Riset dan Inovasi Nasional (BRIN) dalam I AM FT #52 yang akan dilaksanakan Senin, 20 September 2021, Jam 15.00 WIB dengan headtag "Perkembangan Science and Technology Menyongsong Revolusi Industri 5". Untuk itu I AM FT mengundang secara terbuka untuk hadir dan registrasi di https://bit.um.ac.id/IAMFT52. Dan Live on Youtube Channel Fakultas Teknik UM https://www.youtube.com/c/FakultasTeknikUM
—
– I AM FT Webinar Series 53 –
56th Fakultas Teknik UM menghadirkan Mahmuddin Yunus, S.Kom, M.Cs. dari Kepala UPT PTIK UM dalam I AM FT #53 yang akan dilaksanakan Jumat, 1 Oktober 2021, Jam 13.00 WIB dengan headtag "Sosialisasi Pendaftaran Sistem Online SIAKAD ( Tugas Akhir, Skripsi, Tesis, Disertasi )". Untuk itu I AM FT mengundang secara terbuka untuk hadir dan registrasi di https://bit.um.ac.id/IAMFT53. Dan Live on Youtube Channel Fakultas Teknik UM https://www.youtube.com/c/FakultasTeknikUM
—
– I AM FT Webinar Series 54 –
56th Fakultas Teknik UM menghadirkan Dr. Isnandar (Sekretaris Umum Asosiasi Tenaga Teknik Ahli Dan Terampil Indonesia Jatim) dalam I AM FT #54 yang akan dilaksanakan Selasa, 5 Oktober 2021, Jam 13.00 WIB dengan headtag "KOMPETENSI MEMASUKI DUNIA KERJA". Untuk itu I AM FT mengundang secara terbuka untuk hadir dan registrasi di https://bit.um.ac.id/IAMFT54. Dan Live on Youtube Channel Fakultas Teknik UM https://www.youtube.com/c/FakultasTeknikUM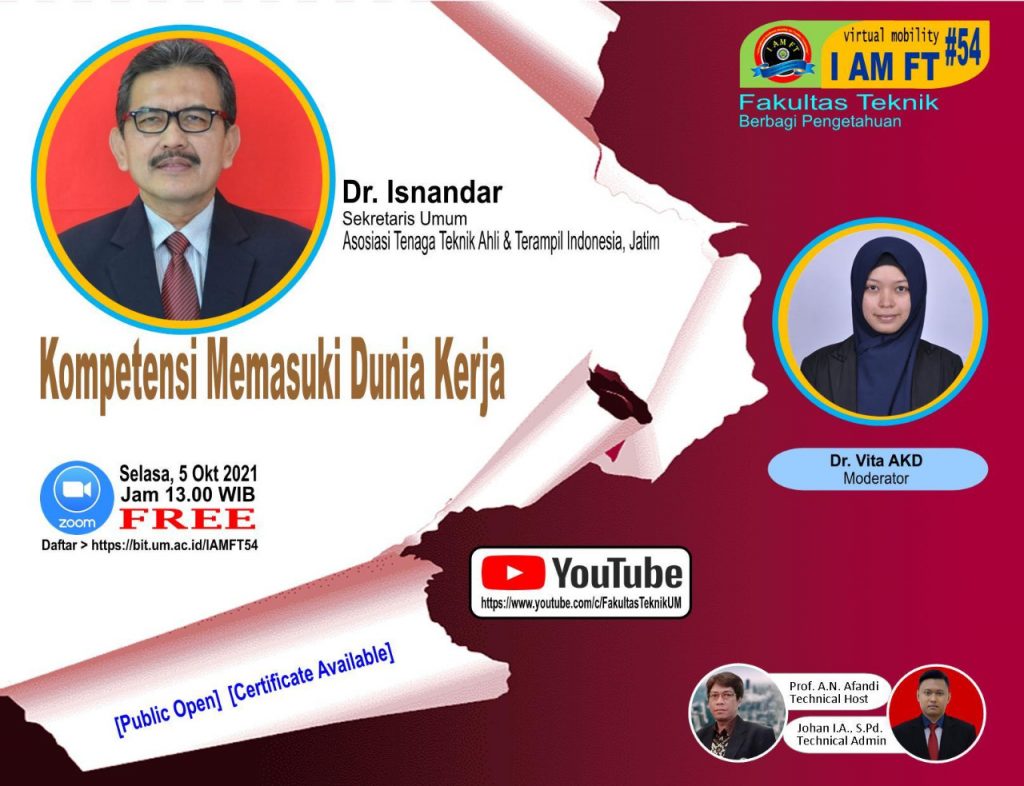 —
– I AM FT Webinar Series 56 –
56th Fakultas Teknik UM menghadirkan Prof. Syaad Patmanthara ( Dosen Jurusan Teknik Elektro, Fakultas Teknik, Universitas Negeri Malang) dalam I AM FT #56 yang akan dilaksanakan Jumat, 29 Oktober 2021, Jam 13.00 WIB dengan headtag "Engineering Learning & Vocational Education (ELVE) Dalam Peranannya Menyongsong Society 5.0". dan Prof. Dr. Tee Tze Kiong [Malaysia]: Problem Solving Skills in the era of Global Education. Untuk itu I AM FT mengundang secara terbuka untuk hadir dan registrasi di https://bit.um.ac.id/iamft56. Dan Live on Youtube Channel Fakultas Teknik UM https://www.youtube.com/c/FakultasTeknikUM
—
Coming Soon