International Conference of Resources and Environmental Economics (ICREE) 2019 – Bogor, Indonesia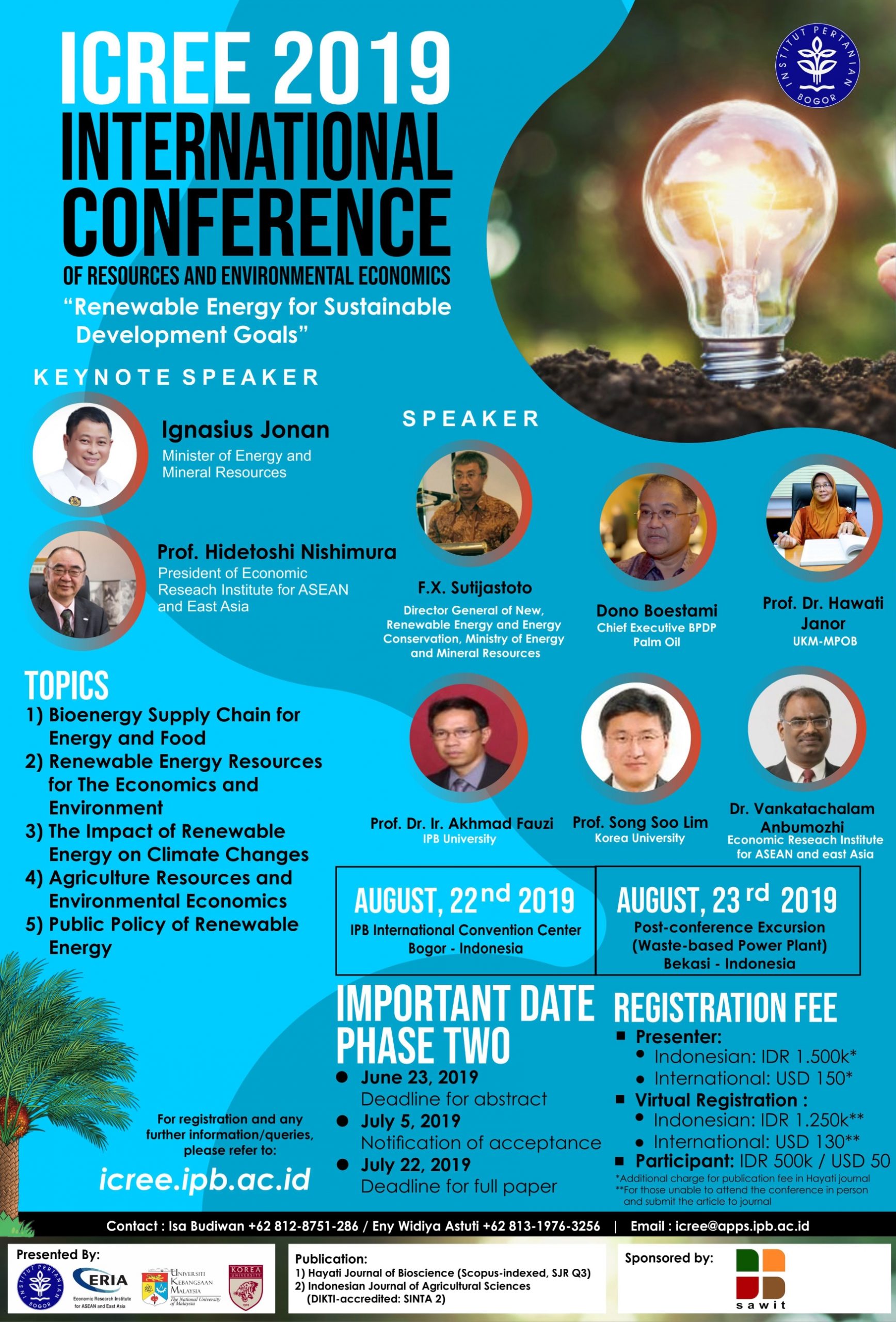 "Renewable Energy for Sustainable Development Goals"
August, 22nd 2019 @ IPB International Convention Center, Bogor

Official Site : http://icree.ipb.ac.id/

About the Conference
The International Conference on Resources and Environmental Economics Conference (ICREE) will be held in Bogor- Indonesia, August 22, 2019. This first series of ICREE will discussing about Renewable Energy for Sustainability Development Goals in general. This conference is hosted by IPB University and will be attended by related stakeholders in renewable energy policy and environmental governance both national and international level, such as academia, researchers, government agencies, private companies, etc.
This international scholarly conference aims to be understanding case studies as well as learning about renewable energy policy and environmental governance. In this conference, we also expect to identify opportunities and challenges in the renewable energy policy formulation and environmental governance regulation in order to be able to provide recommendation on renewable energy and environmental sectors, especially for policy and governance.
In addition, the conference aims to provide a platform for strengthen cooperation between stakeholders.
IMPORTANT DATES
Abstract Submission : March 20 – May 20, 2019
Abstract Acceptance : June 10, 2019
Full Paper Deadline : July 22, 2019
Registrastion Payment Deadline (Early Bird) : July 22, 2019
Registrastion Payment Deadline (Regular) : August 15, 2019
Conference Date : August 22, 2019
Editor : Johan Iriawan Akbar
WhatsApp Admin FT : http://bit.ly/adminFTUM